Reservable Books for Kids and Teens
Our junior floor renovation is underway! Unfortunately, this means that our junior and YA books are packed away in boxes. However, you can still place holds on items that others have currently checked out or that are recently returned to the library. To learn more about our curbside pickup process, click here. In the meantime, check out our digital content platforms with lots of selections for kids and teens!
Nutmeg Book Award Voting
The Nutmeg Book Award encourages teens to read quality literature and to choose their favorite from a list of nominated titles. Each year, 10 books are nominated for the Connecticut Nutmeg Book Awards in each age category.
Voting has begun for the 2020 Nutmeg Winners! Select your choice to win using the forms below.
2020 Nominees for Grades 7-8
2020 Nominees for Grades 9-12
---
Recording Studio
Record your next podcast, audition solo, or original song at the library! All you need is some creativity and a friend or relative over 17 with a library card.
---
STEAM Summer Camp 2019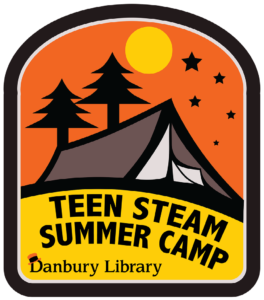 The Teen STEAM Summer Camp is a six-week program for teens ages 13-18 designed to explore topics in science, technology, engineering, art and math. Campers gain in-depth, hands-on experience in STEM fields, art and design, public speaking, research, along with various other professional and personal skills.
Each week, campers engage with a different topic with fun and hands-on workshops led by professional presenters. The camp is a great way to build experience for your college resume, earn community service requirements, discover new interests, make long-lasting friendships, and have fun.
Francis Sanchez has created an awesome webpage to showcase his experience during the 2019 Camp session. Be sure to check it out!
And take a look at the 2018 site made by Jarlene Rodriguez.
Interested in attending the 2020 Teen STEAM Summer Camp? Contact Aurelio Muraca at the Danbury Library for more information.
---
Teens' Top Ten
The Teens' Top Ten is a "teen choice" list, where teens nominate and choose their favorite books of the previous year. Nominators are members of teen book groups in fifteen school and public libraries around the country. The 2017 winners have been chosen!
Drivers Tests
If you are taking the drivers' test soon, you might want to check out the DMV Practice Tests. This is a free learning resource, covering every section of your State's current driver handbook. There is absolutely no cost at all for anyone to take the practice tests, and they are available anytime (and mobile friendly) so students can study whenever they can, and at their own pace.
Email Newsletter for Young Adults