Library Cards are available free to all Danbury residents. With your library card you are eligible to check out books, movies, magazines, use the Internet and more.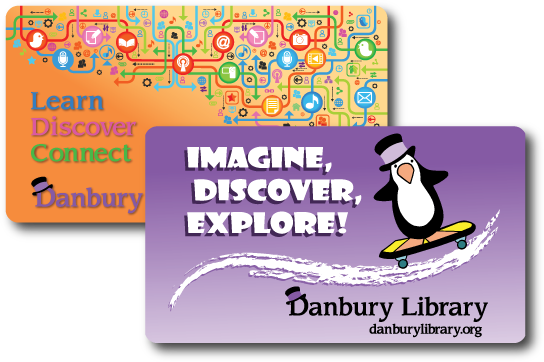 While the library is closed due to COVID-19, you can still apply for a library card online! Please complete the application below and we will email you your library card number to access our digital services.
Library card applications may take up to two weeks to process. Your card will be valid for 60 days and we will extend the expiration as needed.
Danbury Adult residents may use either 1: a current CT driver's license or 2: a government issued picture ID (such as a passport) with birth date AND one of the following as proof of current Danbury street address: car registration; car insurance card; real estate tax bill, or any other business mail with your address.
For a Child's Card (17 and under): Parents or legal guardians are responsible for all materials issued on cards for children under age 18 and all fees incurred on those items. Without a parent or legal guardian present, children 17 and under will be issued a library card that is good for 30 days and given a permission slip to take home. They will be permitted to check out one item until the completed permission slip is returned.
Non-Danbury Resident Cards: Current hometown library card plus confirmation of current residential address with birth date.
Out-Of-State Cards: Current hometown library card; a $120.00 a year fee; plus confirmation of current residential address with birth date.
Residents of Homeless Shelters/Temporary Housing: Individuals and families who are residents of a local homeless shelter or temporary housing must bring in a current letter from the shelter or housing facility and photo ID to obtain a 30-day card – this card will be issued for 30 days from the DATE of the letter, not from the date that you bring the letter to the library. If you are still in a shelter or temporary housing after 30 days, you will need to repeat this process.
College Student Cards: picture ID and a current school schedule.
Library Card Responsibilities
You are responsible for your library card and understanding the policies related to any library materials you check out. You are the only authorized user — do not lend your card to anyone else (even family members).
Report lost or stolen cards immediately. You are financially responsible for material that is checked out using your card.
---