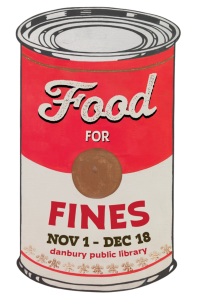 Bring back your items and pay off your library late fines by helping others this holiday season! The Danbury Library's Food for Fines initiative will take place November 1 through December 18 and will allow library users to clear their late fines while making a meaningful impact in the fight against hunger in our community.
How does it work? For each non-perishable food item donated, patrons will receive a one-dollar reduction on their library late fines. There is no maximum donation. This amnesty program covers fines for late returns, not lost or damaged materials.
All donated food items will be collected at the Main Floor information desk and passed along to The Community Action Agency for distribution to community members in need. Suggestions for non-perishable food items include canned soup and vegetables, dry pasta, jelly, peanut butter, and mac 'n cheese. If you are donating in advance of Thanksgiving (before November 15th), items like gravy, cranberry sauce, canned yams, canned corn and mashed potatoes packets are encouraged.
We understand that life's challenges can sometimes lead to fines, making it difficult for library patrons to fully utilize the services we offer. With the Food for Fines program, we hope to remove those barriers and encourage supporting the Danbury community.
We invite the public to participate in this initiative, whether you have library fines to clear or simply wish to contribute to our local food drive.
Please contact Lending Services Manager Darlene Garrison (203-797-4505 ext. 7707 dgarrison@danburylibrary.org) with questions.