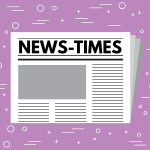 A CT State Library card is required to access current issues of the News-Times with full-color newspaper pages and individual articles as well as content only published online.
In the Library
The library retains the latest two weeks of newspapers. Newspapers are available to view within the library, but are not available for circulation.
Ordinarily, the library receives the following papers:
News-Times
New York Times
New York Post
USA Today
Newtown Bee
Hartford Courant
Wall Street Journal
El Diario
Antiques Weekly
State Newspaper Resources
Search paid subscription level newspaper titles that are available free to Connecticut State residents with their library card number. For 2019 onwards, access current issues with full-color newspaper pages and individual articles as well as content only published online for the Connecticut Post, News-Times, Greenwich Time, The Hour, Norwich Bulletin, and the Stamford Advocate.
Find newspapers available through the Connecticut State Library with the name of the town or village and a year or range of years. The index includes Connecticut newspapers ranging from 1758 to the present.
From October 1991 to July 2002, the Connecticut Newspaper Project worked to locate, catalog and inventory all American newspapers held in libraries, historical societies and other repositories in the state, and to preserve and increase access to American newspapers by microfilming as many of their state newspapers as possible.
The Connecticut State Library has received four awards from the National Endowment for the Humanities (NEH) for National Digital Newspaper Program (NDNP) grants to digitize historically significant Connecticut newspapers. These grants resulted in the creation of the Connecticut Digital Newspaper Project (CDNP), which manages all aspects of the grant project and works in conjunction with NEH and the Library of Congress to deliver the digitized newspapers in each grant cycle.
This list includes links to substantial collections (i.e. over 100 issues) of free online Connecticut titles.